Sifu John Hitchman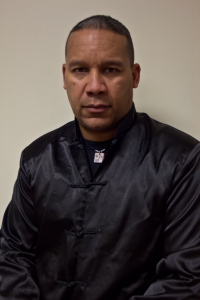 Sifu John "Jay" Hitchman was introduced to the martial arts in 1975 at an Adult Education Center Karate Program at South Shore High School in Brooklyn, New York.   In 1981, he started Ving Tsun training under his close friend, Joe Rodriguez.   In 1993, while on a work assignment in Sydney Australia, he had an opportunity to train for a month at Master Jim Fung's Wing Chun Academy.   In 1994, after checking out schools in the Philadelphia/South Jersey area, he began his formal training under Master Pete Pajil at the South Jersey Moy Yat Ving Tsun Kung Fu School in Voorhees, New Jersey.
Jay became a Grand Special Student of Grandmaster Moy Yat in 1995. In 1996, he achieved instructor level by completing the third form of the Ving Tsun Kung Fu System, Biu Je. Shortly thereafter, he completed training in the Muk Yan Jong (Wooden Man Dummy) set. In 1997, he received training in the Luk Dim Poon Kwan (6-½ point pole weapon) form, and in 1999 completed the system by learning the Bot Chom Doh (8 Direction Slashing Knives) form.
In August of 1996, on the return trip from a work assignment in Singapore, Jay visited Hong Kong. There he had the opportunity to stay for two days with well known Ving Tsun fighter and Grandmaster Moy Yat Student, Jeffrey Chan. Jeffrey took him on a tour of Hong Kong, which included a trip to the Ving Tsun Athletic Association where he met VTAA president Sam Lau. They also visited the gravesite of Si-Tai Gong (Ving Tsun Grandmaster) Yip Man, and spent the day with Yip Man's youngest son, Grandmaster Yip Ching.
Jay began teaching in the summer of 1999.   In April of 2000 with only 3 students, he opened the original Ving Tsun Kung Fu Studio in Hatboro.   Over 350 students have trained there to date.   Jay attends and participates in many Ving Tsun events and continues to have a close relationship with his Sifu.   He still trains with his Kung Fu family while focusing on bringing Ving Tsun Kung Fu to the Bucks County and Philadelphia areas at the Moy Yat Ving Tsun Martial Intelligence.